Salisbury, North Carolina, March 12, 2016
(click on each image to see a larger version -- approx 1024X768)
---
Coming through the curves off the S Line, past the new signals.

2:31pm
A foreigner in the consist!
A lady on a motorcycle and more new signals.
2:37pm
I really like the NCDOT paint scheme, this one (train #75) was delayed a couple hours after striking a trespasser. A needless tragedy – idiots have to learn to stay off the tracks!
5:02pm
More foreign power.

5:07pm
And even more foreigners!

5:16pm
Heritage units!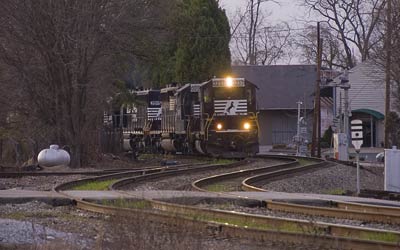 The locals told us that this train (P60) coming off the S-line always had older power. Four SD-40-2s, I just can't get used to calling those "old" power!
5:23pm

---